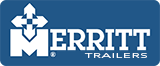 Merrit Aluminum Gooseneck Trailers
The ultimate livestock transportation solution
Crawford Trucks & Equipment is the only authorized dealer for Merrit Gooseneck Trailers in South Dakota.
---
Why Choose Merritt?
Punch Side Design
Originated by Merritt for large semis, the punch sheet & post design has stood the test of time and will outperform any other trailer on the market.
Aluminum Roof
Designed for livestock is a single sheet of high grade aluminum riveted around the perimeter.
Livestock Diamond Plate Ribbed Floor
This is the strongest deck in the industry supported by Merritt's own 3" livestock cross member. This is the same floor used in our large semis.
Strongest Corners in the Business
Aluminum trailers need stronger corners to mitigate the stress of twisting in the corners. Merritt has spared no expense in making sure the corners will never give you a problem.
Automotive-style Sealed Wiring Harness
Fully sealed, plug together harness style wiring keep out the elements that can cause trouble. If it happens, trouble shooting is quick and easy and new sections can be put in.
All LED Lighting
All LED lighting inside & out for low maintenance and long life.
Turtle Back Latching System
The TURTLE BACK lock system is designed to be easy to operate inside or outside of trailer and easy on your livestock.
Front & Rear Fenders Guard Steps
Fender guards on both the front and rear are standard equipment on Merritt. These provide both protection and use as a step. Self-draining helps limit snow & ice build up.
Rear Full Swing Gate Safety Catch
Helps you control the door swinging back open while you engage the positive lock full cam latch.
---
Available Lengths (Stock & LARIAT)
16′ – 7′ or 8′ Wide Tandem
20′- 7′ or 8′ Wide Tandem
24′- 7′ or 8′ Wide Tandem
28′- 7′ or 8′ Wide Tandem
32′- 7′ or 8′ Wide Tri-Axle
LARIAT Stock Combo – 20′, 24′, 28′ / 7′ & 8′ Wide
Deck Package Options
Double Deck Sheep-Hog Combo –"Hog and Sheep deck packages can be installed and customized to your needs.
Floor Options
Ribbed Floors are designed for livestock, .112 Thickness with long life High grip floors
Punch Pattern Options
Merritt offers many punch patterns to choose from for all your ventilation needs
Escape Doors
Loading Ramps
Interior Gates
Tie Rails
Running Boards
Roll Up Door
---
Lights & Bling – Packages Vary by Length
Goldline Trim Package
Want to make a statement? The "GOLDLINE" top rail trim kit is available only from Merritt and is the perfect way to stand out in a crowd.
Rear Post Lights
The amount of lights on the rear can be customized to your wishes.
Light Packages
You have several side marker light packages to choose from if you want to dress it up with some bling. This varies with trailer length.
Extra Rear Stop Lights & Load Lights
Add extra visibility to the rear of your trailer. Can be ordered separately or together.
Rear Post Lighting Only
Light your new trailer up with a package of lights on just the rear frame post.
Lighted Name Sign
Advertise yourself using the LED lighted front name sign.
Gravel Guard Kit – Basket Face
Protect your investment by using this bright finish diamond plate protection package for your trailer.
Electric Jacks
Tired of hand cranking up the leg? An electric jack leg is available. (shown with optional double spare tire carrier)
Hay Racks
Carry your hay around with you using this easy access roof rack. (includes side ladder).