Demco Manufacturing Grain Trailers

Demco Aluminum Grain Trailers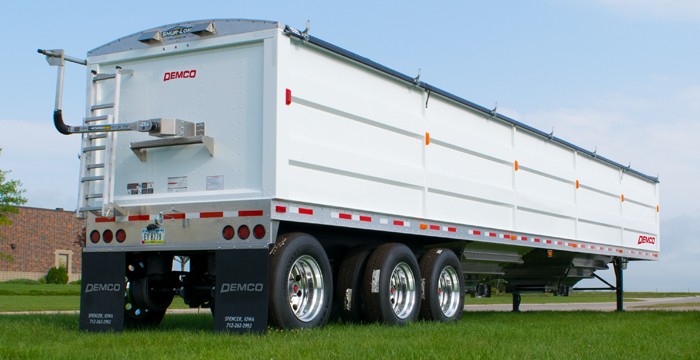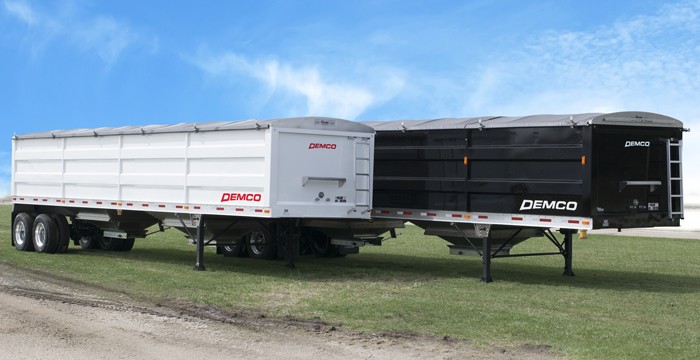 Best Clearance in the Industry
Demco hopper bottom grain trailers started production as a Steel unit to the industry. This trailer was designed by farmers for the transportation of grain from the field to the farm or from the farm to your market. One of the most notable features of a Demco grain trailer is the ground clearance from the hopper allowing the best clearance in the industry. This ground clearance allows you the opportunity for your swing hopper augers to fit easily under the hopper of the grain trailer. Through time Demco has answered the call of the industry with an Aluminum hopper bottom grain trailer to our product offering.
Today, Demco can fulfill your hopper bottom grain trailer requirements in either Steel or Aluminum configurations.
For more info about Demco Steel Grain Trailers visit www.demco-products.com
Standard Features
Deluxe LED Light Package
3-leaf heavy duty SAF Holland spring suspensions for 28′, 34′, 36′, 38′, 40′ & 42′ trailers
22.5K Arvin Meritor tandem axles with Wabco ABS brakes (single axle) and 10 bolt hub piloted steel rims
Standard air ride SAF Holland suspension on 50′ trailers
25K Arvin Meritor tandem axles with Wabco ABS brakes (single axle) and 10 bolt hub piloted steel rims
Stationary 3rd axle with 2 steel rims on 50′ trailers
Holland Atlas 55 2 speed landing gear (34′-50′ trailers)
Holland Atlas 55 2 speed drop leg landing gear (28′ trailers)
Full center divider on all trailers 34' and up
Rubber mounted LED lighting and sealed wiring system, 7 way receptacle by Truck-Lite™
Front & rear aluminum ladders
Shur-Co manual roll tarp (Black, White, Red, or Blue)
Easy off tarp stops
Roll tube deflector
Maurer trailer graphics
Anti-sail mudflaps (Maurer logo)
D.O.T. approved conspicuity tape
Manifest holder
Design Characteristics
68″ Side walls for full view into hopper from combine cab
Horizontal ribs & interior wall supports for a smooth aerodynamic exterior
8″ Extruded channel; 1/4″ 6061T aluminum on bottom rail
3″ x 3″ Extruded tube; 3/16″ 6061T aluminum on top rail
2 ½" x 2 ½" Extruded tubes; 3/16″ 6061T aluminum on wall supports
Wall skins constructed of .125″; 5052 aluminum
Hopper skins constructed on .090″; 5052 aluminum
30″ x 20″ hopper opening
96″ overall trailer width
Demco Steel Grain Trailers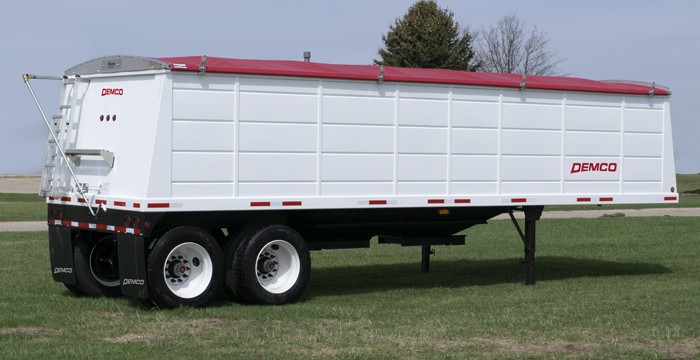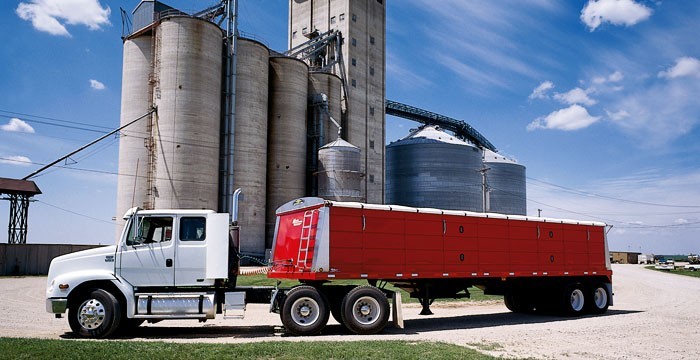 Built by Grain Harvesters
Demco Manufacturing is the leader in the industry for steel grain hopper trailers. Designed for the grain harvester by the grain harvester, our steel grain trailer is known as the work horse in the industry.
Our heavy wall tubular steel frame has been designed to minimize twisting. Hopper and wall skins are 14 gauge steel to provide the durability that our customers demand. Our standard 66" side walls provide a full view into the hopper from the combine cab. Demco's exclusive horizontal rib wall construction significantly reduces air drag and rock chip damage which equates to fuel savings and extended paint life.
For more info about Demco Steel Grain Trailers visit www.demco-products.com
Standard Features
3-leaf heavy duty SAF Holland spring suspensions
Arvin Meritor axles with Wabco ABS brakes (single axle) and 10 bolt hub piloted rims
Holland Atlas 55 2-speed drop leg landing gear (24' 28' & 30' trailers)
Holland Atlas 55 2-speed landing gear (34' – 42' trailers)
Full center dividers on trailers 30' and up
Rubber mounted LED lighting & sealed wiring system, 7 way receptacle by Trucklight
Color coded brake lines
Diamond Vogel polyurethane primer and paint (standard color white)
Undercoated with XRC2001 synthetic rubber coating
Aluminum ladders (front & rear)
Ladder rungs on inside of trailer
Hopper sight windows
Shur-Co manual roll tarp (Black, White, Red, Blue)
Easy off tarp stops
Roll tube deflectors
Maurer vinyl trailer graphics
Anti-sail Mudflaps (Maurer logo)
D.O.T. approved conspicuity tape
Manifest Holder
Design Characteristics
66" Side walls for full view into hopper from combine cab
Inverted horizontal ribs for easier pulling and less rock chipping
3" x 6" x 1/4" Heavy wall tubular steel to minimize twisting
Hopper and wall skins constructed of 14 ga steel
2" x 2" Wall upright stabilizers constructed of 11 ga steel
3" x 4" Top rail constructed of 11 ga steel
30" x 20" Hopper opening
25" Hopper clearance
98" Overall width